With a little under 2 weeks to go until polling day, 3rd May, East Midlands Anti-fascists bring you a round up of local fascist attempts to jockey for power.
BNP
Having finally concluded the messy power struggle within Amber Valley (Lewis Allsebrook jumped ship before he was pushed), the blackshirts of Derbyshire BNP have put up 8 candidates in Derby and Amber Valley.
The "invisible councillor" Cliff Roper is fighting to retain his seat in Heanor East, which should be a struggle if reports that he barely opens his mouth in public are to be believed. Not so long ago Roper was having a strop and resigned the party whip in order to get his way in the local party, and there have  been plenty of accusations of backstabbing and being a "red" flung his way. Aging bonehead, Adrian Hickman, will stand in Allsebrook's former constituency of Heanor West. "Inept" Emma Roper will hope to get slightly more than the 2.4% she polled last time in the Codnor and Waingroves ward. Ken Cooper (Heanor & Loscoe) and Alan Edwards (Ripley & Marehay) are also standing.
Admirer of Mussolini's blackshirts and "Grand Dictator of Derbyshire", Paul Hilliard is standing in the Chaddesden ward in Derby and is joined by Julie Fuller (Derwent) and Vanessa Griffin (Spondon). Let's just say you wouldn't buy a second-hand car from the man.
The BNP's only candidate in Lincolnshire is neo-Nazi Dean Lowther, whose campaign is in a bit of a pickle after his openly racist posts on Facebook became the subject of a police investigation and front-page news in the local paper. His posts included cartoons portraying the Obamas as monkeys and the insignia of violent and openly Nazi groups, the Racial Volunteer Force, the British People's Party, Blood and Honour and Combat 18.  Lowther is standing in the Bracebridge ward of Lincoln.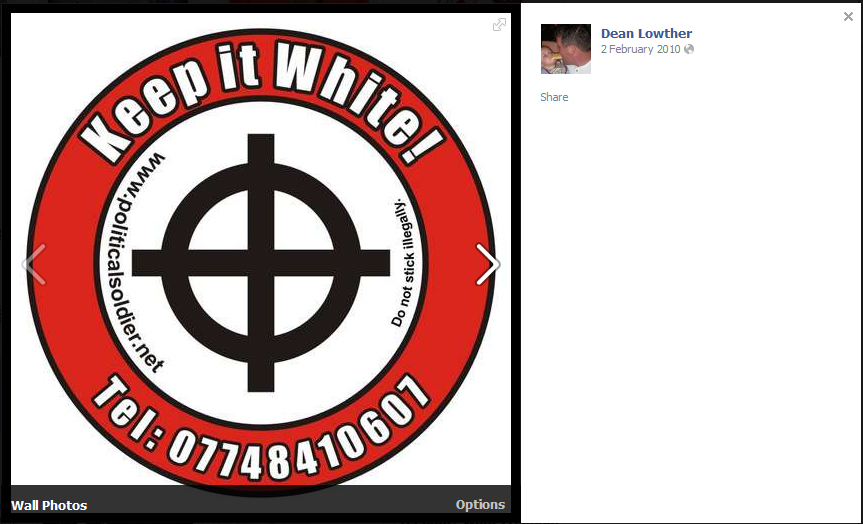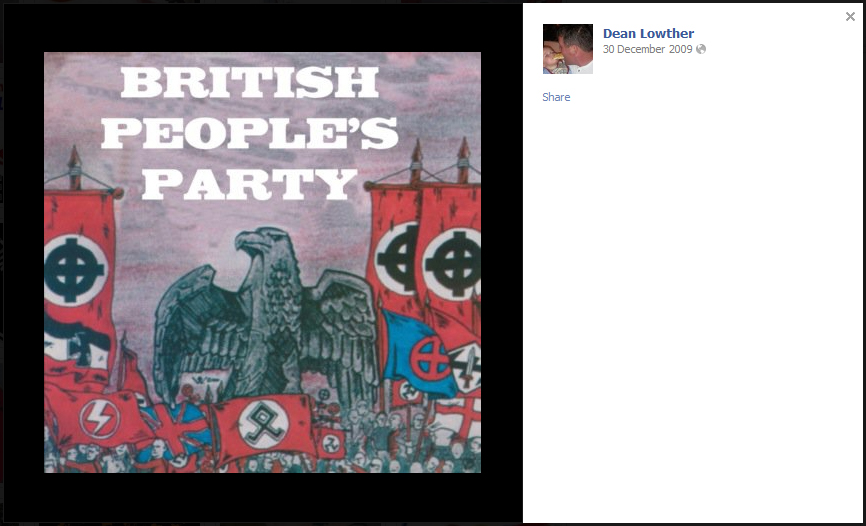 English Democrats
The entire North-West Leicestershire BNP branch has recently defected to the English Democrats in the hope that they can do away with secret meetings and redirection points and gain a bit of respectability, something which seems unlikely given that about half of the English Democrats' candidates across the UK are recent defectors from the BNP. Alan and Gaynor Bennett Spencer are standing for the half-fascist party in Daventry.
National Front
Fascist failure, Tim Knowles, who was so dim he managed to fuck up being elected unopposed is trying for a second crack of the whip in Langley Mill, Amber Valley. Last time round he failed to fill in the acceptance form or turn up to any meetings so was booted out. We hope the Front will sink further into irrelevance during these elections.