As an illustration of how the local BNP has been decimated over the past few years, check out this photo of local activists taken in the run up to the 2010 elections. All of these party activists have since fallen by the wayside.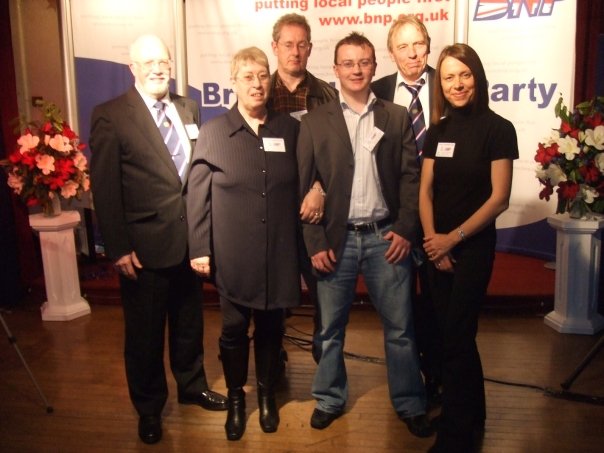 From left: Edward Holmes, Hilda Holmes, William "Chris" Bell, Lewis Allsebrook, Michael Clarke, Janina "Nina" Brown
Edward Holmes is probably the only Ashfield candidate to have featured in the local paper after being sent a blood-stained "hate effigy". His other claim to fame was getting into a row with BBC presenter, Des Coleman, who was filming a documentary about the fascist party. Both Holmes and his wife Hilda were last seen standing as "independent nationalists" in Selston, at the end of last year, but there hasn't been a peep out of them since and Holmes' Ashfield Matters website, along with the Ashfield Patriot site, is defunct. Meanwhile, the Ashfield BNP which struggled to find candidates in last year's local elections, has collapsed.
William Christopher "Chris" Bell, was the organiser of the always fairly weak Nottingham BNP until last year when he threw in the towel and left fascist nut, Bob Brindley, in control. Brindley was last spotted handing out leaflets on his own. Presumably Bell has gone back to running shit financial advice websites and being a dodgy student landlord.
Lewis Allsebrook had been falling out with just about the whole of the East Midlands BNP for a while before he finally quit the party in February this year claiming that the BNP only had a "shallow pool of members" in Amber Valley. He was backed by Mick Clarke, the party's parliamentary candidate for Amber Valley in 2010 who also seems to have left the party. Allsebrook's prediction proved to be correct as the BNP slumped at the polls and lost both its councillors in Heanor this May. Allsebrook maintained his Amber Valley Matters website for a while but it hasn't been updated for months now. He seems to have given up hope on joining another nationalist party.
Nina Brown has been in and out of the BNP more times than we've been able to keep track of over the past 5 years. She was the person who famously let the BNP's security team into Sadie Graham's house to ransack it looking for evidence of treachery. Following this she and husband Dave were part of the group that resigned forming a major split in the BNP. When that didn't work out the Browns came back to the fold, tails between their legs and were running the Broxtowe Nationalist website up until 2010. They were spotted representing the BNP at a neo-Nazi rally in Germany at the end of 2009. Broxtowe BNP has since collapsed and a recent attempt by David Wright to revive it seems doomed to failure.
Analysis of the leaked BNP membership list in 2008 suggested that NG16 in Broxtowe was the country's "most racist postcode" with more members than any other. Leicester, Nottingham and Derby were the cities ranked as having the 2nd, 3rd and 8th most members, with Leicester and Nottingham both having more than London. Since those days the BNP has had a near total collapse across the region. Although the dregs still remain, the endless splits, exposures and infighting have destroyed the party and many local activists have left in disgust, been purged, or have just given up. Long may it continue!