As we reported a couple of weeks ago, Derbyshire BNP are currently a good source of laughs for keen students of BNP infighting, and their latest meeting hasn't disappointed.  An Amber Valley group meet on Monday evening was addressed by Derbyshire organiser  Paul Hilliard, who shared his vision of different BNP groups combining to "give the UAF a taste of it's own medicine". What exactly he meant is unclear, but if you encounter a gaggle of fascists chanting "Nazi scum, ON our streets!", remember where you heard it first!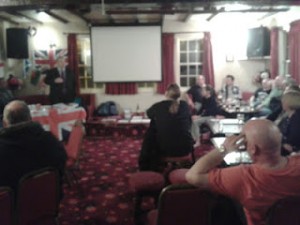 Of course The Derby Patriot faction of the party see things differently, with truthseeker22 reckoning Hilliard's true vision is to become "Grand Dictator of Derbyshire".  Hope you get a nice uniform with that job, Paul!  The same unhappy blog-writer also takes issue with an Amber Valley meeting having actually been held in Broxtowe – that's not indigenous! – and is very scornful to have witnessed Emma Roper (aka Self Obsessed Slapper, apparently) cooing over Hilliard on the top table at the meeting.  Emma's hubby Cllr Cliff Roper had a "thoroughly enjoyable evening", but unsurprisingly truthseeker22 disagreed, finding the meeting "shambolic", with the cheap beer being the only saving grace…
Beer must indeed have helped to make the contribution of East Midlands organiser Geoff Dickens more palatable.  Fresh from his rousing turn at a Leicestershire BNP meeting, he again enlightened his audience about the danger of cultural marxism.  Rather than worrying about the international red conspiracy, perhaps Geoff should turn his mind to the fact that his region is owed almost ten grand by party central; reckon you've lost that forever to Nick Griffin's fish-and-chip fund, Geoff.  Can you blame "the marxists" for that?
We look forward to the next installment of "Carry on Derbyshire BNP" with relish!