We hear reports that the EDL (remember them?) have been active, in a manner of speaking, in north Notts. In March, a group of five held a flash demo outside the Savanna Rags factory in Mansfield, where 30 immigrant workers had recently been arrested for illegal working.  What exactly this has to do with the EDL's stated purpose of "protesting about islamic extremism" is unclear….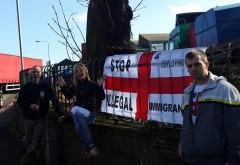 More recently, the EDL latched onto the anniversary of the grim murder of soldier Lee Rigby to hold a "memorial walk" in Sutton-in-Ashfield on May 25th (despite the Rigby family's opposition to political groups attempting to take advantage of his death).  Around 20 EDL turned up, and were opposed by a similar number of anti-fascists in Sutton.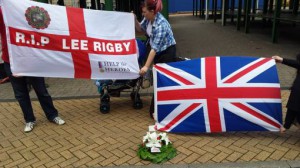 Despite police attempts to keep the two groups apart, after a brief scuffle the EDL were left minus one of their flags.  This is reminiscent of an occasion four years ago not so far away in Ripley, when the NF lost a flag to anti-fascists, and also echoes successful games of antifa "capture the flag" played at various demos this year….
Mansfield and Ashfield EDL may be small and incompetent, but they seem to be trying to get out on the streets locally, and so anti-fascists will be watching them with interest.