We've been doing a little digging into the Lincoln mosque demo to find out what more about the people organising it. The original Facebook event was set up by a local man called Alex Banos who lists his religious views as "muslim bashing" and his political views as UKIP. He is a big fan of the EDL and it was his posting stating that "we all edl on here". He has also made posts threatening to bring down the mosque if it gets built.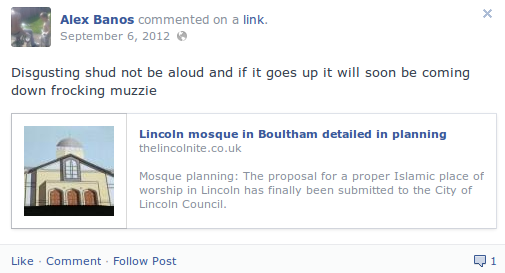 Since then a more organised far right group has picked up on the event. The East Anglian Patriots, led by former EDL webmaster, Anthony Bamford, and with an admin consisting of disaffected former EDL organisers like Andy Reynolds and Rob Stebbing, is promoting the event. In spite of the fact that Lincoln isn't in East Anglia. Oh dear. There are plenty of actual EDL members involved as well. Members of the Stop the Lincoln Mosque group include EDL deputy, Kev Carroll, and Norwich EDL organiser Ivan Humble. Sam Burgess, who organised the Norwich EDL demo has said he is going. Other members of the East Anglian Patriots include EVF Midlands organiser, Wayne Ayers, Daz Healey and Ben Laight of Boston EDL and a familiar face who seems to pop up in everything far right around these parts – Dean Everitt. Everitt's latest anti-immigration demo in Wisbech was deemed too extreme even for the strongly anti-immigration UKIP to attend so he obviously feels the need to move in more blatantly fascist circles these days.

Things are not looking good for the far right mobilisation according to posts on their event page, demonstrating that, as we expected, local interest in the demo is non-existent. Interest from "Lincoln lads is embarrassing" according to Dave Gooderham,  who complains that "the locals don't seem to care". Rob Sawyer agreed: "the i don't want a mosque brigade can't get off there arse" and added that he's "using the demo as a social and nothing more". He concluded "the people of Lincoln don't fucking care". Which begs the question of why people from a different region are coming to protest a mosque that has nothing to do with them? It just looks like an attempt to stir up trouble where there is none, a social (i.e. heavy drinking) session for a few lads from Norfolk and an excuse to do a few racist chants as well as trying to intimidate the local Muslim community.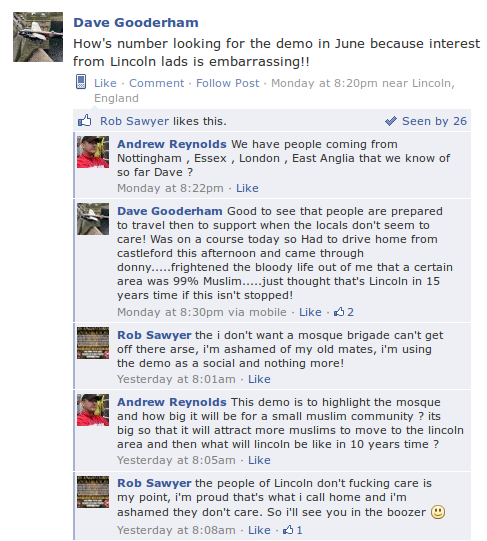 Fortunately, local Lincoln anti-fascists have calling for a counter-mobilisation against the racists. We will promote their plans once they've been made public and encourage anyone who is against fascism and nationalism to oppose the anti-Muslim demo.