The protests against a Muslim community centre on the Thurnby Lodge estate in Leicester have now attracted the attentions of the leader of the BNP. Nick Griffin parachuted in last night to quickly give a speech which he reckoned was "very well received". He also claimed that 250 people had turned out to the most recently nightly protest against the As Salaam charity, which wants to convert a disused Scout hut into a community centre.
As we described yesterday, the protests are becoming a magnet for far right parasites, desperate to be involved in a popular campaign for a change. Also in attendance were members of Leicester EDL, Casuals United, and islamophobic group 212 Poison. Dave Hightower of the 212 has threatened to get rid of the hut on Facebook, posting "Would they use it if it wasnt there anymore?".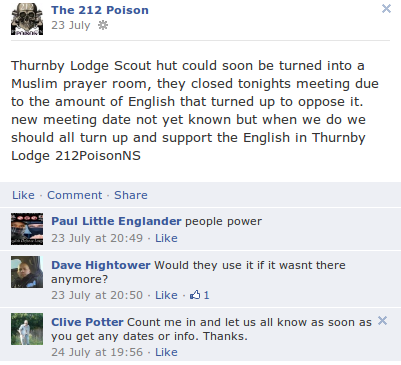 The casuals report is well worth a read:
You have got to ask yourselfes here why the Leicester EDL have gone down to 12 people. Well chanting "f*cking scum" in the middle of women and kids trying to save their estate aint helping no one. Your a f*cking disgrace and thats why the EDL on the whole have diminished in numbers. You lot might turn up for a piss-up but if it kicked off you would get f*cking slaughtered. FACT !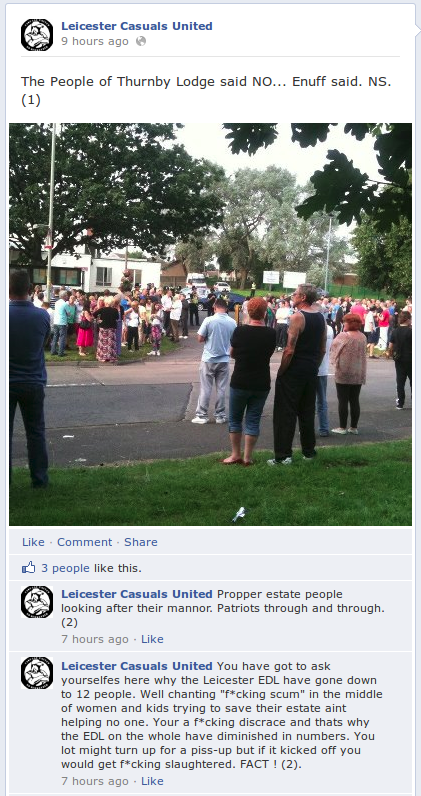 Although the infighting within the local fascist groups is heartening to see, anti-fascists need to make sure that far right groups do not get a boost as a result of these protests. Residents of Thurnby Lodge have a right to shared community resources and a say in how their community is run rather than being dictated to by Leicester City Council. Any attempts by the far right to turn this into a racial or religious matter need to be firmly resisted. We need to get an anti-fascist presence in the estate, to talk to people about what the fascists are up to and show that we genuinely support the right to community self-organisation but not the division of communities along cultural and religious lines.