Regular readers will have notices several references to BNP East Midlands Regional Organiser Geoff Dickens in the last few months. It's important to know your enemies, and so we'd like to introduce the BNP's main man in our region.  "Retired businessman" Geoff lives in Shawell, near Lutterworth, and has stood for the BNP in several elections in Leicestershire, most recently at the general election in 2010, where he failed to secure the Harborough seat for the white race (although he did narrowly beat the UKIP candidate).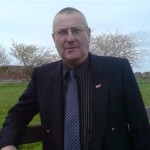 More interesting than old Geoff himself is what his job as Regional Organiser illustrates about the current state of the BNP.  Much of Dickens's role seems to be touring local branches spreading the word to the (generally few) party faithful.  He has recently addressed meetings in Leicestershire, Lincolnshire, and Derbyshire, delivering his trademark routine – which consists mostly of paranoid tosh about the international communist new world order, followed by a call for party unity and, of course, the appeals for money which BNP members hear so often these days.
Unity and money are both elusive in the BNP at the moment, and so Dickens has the unenviable mission of trying to subdue the strong anti-Griffin feeling from local members, whilst also boosting party coffers – a gloomy task whilst many members accuse Nick Griffin of diverting wodges of their cash into his own capacious pockets, and whilst the BNP central command (ie. Griffin and his mates) owe the East Midlands region eight and a half grand….
Dickens was the "returning officer" for the BNP's extremely bitter leadership election last summer, where Griffin beat Andrew Brons by 9 votes, amidst a whirlwind of claims of vote-rigging and dodgy dealings (in a fascist party – how surprising!).  Dickens is seen as a steady, even-handed party man, suitable to deliver the unity and "safe" party image the BNP so eagerly crave.
It wasn't always like this for Geoff though; he was (as were both Griffin and Brons) a very active member of the old-school NF for many years, which is not the sort of thing BNP officials like to mention nowadays.  An even more inconvenient skeleton in his cupboard is his membership of the barmy openly nazi outfit The Greater Britain Movement in the 1960s, which took inspiration from Mosley's blackshirts.  It's useful to be reminded that despite the laughable infighting, incompetence and irrelevance of today's "more respectable" BNP, they will always represent a danger as a direct inheritor of the British fascist tendency; that's why we oppose them, and that's why we're watching you, Geoff.