Elliott Fountain, the English Democrats candidate for Lincolnshire Police & Crime Commissioner, is one of only two far right candidates standing in the East Midlands*. His political hero is Enoch Powell and he has expressed a strong dislike of East European migrants. Fountain has described his approach to crime as "zero tolerance", which involves "throwing tenants out of houses faster", expanding Lincoln prison, bringing back the death penalty and encouraging the harassment of migrants by the police.
So far, so far right. But is Elliott Fountain a fascist? Thanks to screenshots of his Facebook profile leaked to us we can safely conclude that he is.
As well as liking and promoting the English Defence League, Fountain also likes the British Friends of Golden Dawn. Golden Dawn is the Greek neo-Nazi political party whose leaders have openly praised Nazi party leaders and used Nazi imagery. Its leader proudly proclaims his racism and has called for vigilante attacks on migrants. Golden Dawn members are believed to have fought alongside the Serbs during the Bosnian war and may have participated in the Srebrenica massacre of Muslim civilians, have vandalised synagogues and sent death threats to critical journalists. Is this the kind of "zero tolerance" that Fountain wants for Lincolnshire?
It's not just foreign far right violence that Fountain promotes. He approvingly reposted a picture of a bloodied EDL member after the group's Walsall demonstration, supporting the group's violent clashes with the police. EDL members attacked the police with bricks, bottles and litter bins and 30 have been arrested in connection with the day's events. I have a feeling that Fountain's support for this disorder might not get the support of the police he wants to direct.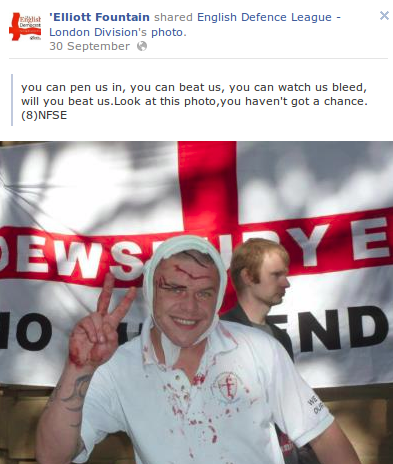 Fountain's support for groups like Golden Dawn and the EDL seems to be motivated by his violent hatred of Muslims. Reposting a video of a protest by Muslims outside the US embassy, Fountain commennted "shoot the lot of them". Commenting on Muslim outrage about The Innocence of Muslims film he said "they enrage us the goat  ragging backward rats". Reposting a film of a Muslim protest in Australia getting attacked by a violent mob, he wrote "this is what muslims should get!!". Promoting racist mob violence is a strange activity for a "law and order" candidate, unless you favour the kind of "law and order" practiced by the Nazis of course.
On that note, Fountain thinks "we should of never started a war with Germany" in the 1940s, "its all a giant conspiracy but cant say to much on here else i will be killed of mysteriously". Fountain is a conspiracy theorist (perhaps an anti-Semite?) as well as a Nazi appeaser.
Fountain's public zero-tolerance anti-drugs approach ("bang all smack heads up") does not appear to extend to his private life. His posts are full of favourable references to taking ecstasy and asking his mates for pills. It's all a bit strange coming from a man who has pledged to cut crime by targeting drug offences! "It's all about helping younger people to keep them away from crime, from drugs, from doing things which are wrong" he told the BBC in a clear case of 'do as I say, not as I do'.
He's also not averse to drinking until he passes out. "who was sleeping with me 4 or 5 years ago" he asks Facebook,  "because i was in a drunken state for a year or two". Maybe it was during this time that he was photographed getting his arse out in a public square in a German city. We can only imagine his response if one of the dreaded "East Euros" behaved in a similar manner in his hometown of Boston.
But Fountain's real passion seems to be ogling at women with their tits out: Boobies, Phantom Models, Silks Gentlemans Lounge, Laptastic International, Nuts, EroticCapital.co.uk, EroticaUK, fetish burlesque, Hedonism Resorts and Nottingham's infamous branch of Hooters all feature on his likes list. Whilst Fountain might be a xenophobe in his political career, he's more of an internationalist when it comes to perving, even getting into Slovak Girls & Women (as long as they're not taking English jobs, of course).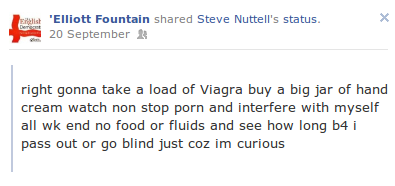 All in all, Elliott's a bit of a sad case and the English Democrats must be really desperate to be standing him as their candidate. Fortunately, he doesn't have a chance in hell of actually winning, only managing a grand total of 45 votes in his past two election appearances. There goes another deposit down the drain for one of Lincolnshire's veteran fascist losers.
* The other is Alan Spencer-Bennett, also of the English Democrats, standing for the post in Northamptonshire