Elliott vs Everitt: Round 1
The decision of Dean Everitt's Boston Protest Group to finally hold their anti-immigration protest has ruffled the feathers of English Democrats councillor Elliott Fountain. Fountain, a nasty little Islamophobe and fan of Greek neo-Nazis, Golden Dawn, slated the group for not marching earlier. His Facebook friends agreed, saying the group were "all piss and wind", "bunch of fucking idiots" and that "dean evritt is a grass".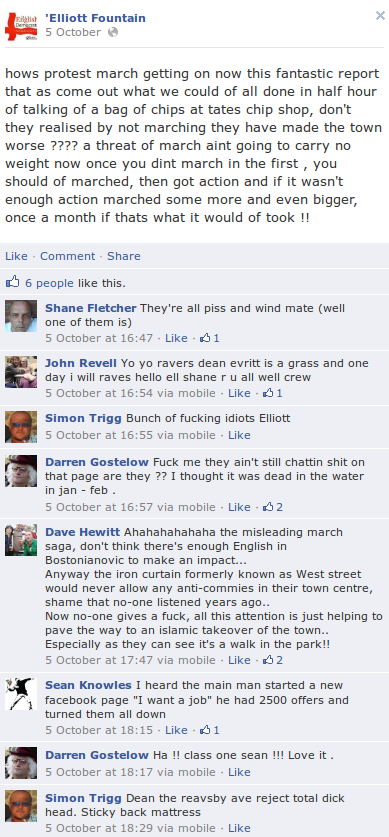 Round 2
Everitt hit back complaining that "elected members of the council spend there spare time slagging people off to there little fans on thier page."
how the hell some people get on the council in the first place amazes me and the biggest laugh is hes running for police commissioner lol
According to Everitt, Fountain is "a fucking joke" who "never uttered a word" during the Task and Finish meetings on the impact of immigration in Boston, is "a waste of tax payers money". Speaking of Fountain's candidacy for the PCC post Everitt concluded "lets just put the crooks in charge of the establishment".

But Fountain's merry men outflanked Everitt by starting a Facebook group mocking him called "Let's find Dean Everitt a JOB! (Boston Protest against Immigration)". Elliott Fountain and his friends are the main contributors although Fountain claims to have no knowledge of who set up the group! It features an amusing (but clearly edited) phonecall from Everitt in which he threatens violence and comes across as a bit of a wannabe gangster.
Round 3
The group clearly wound up Everitt who slagged off Fountain's "BAND OF FOLLOWERS (SHEEP)" and challenged him to say "WHAT HAVE YOU DONE FOR BOSTON APART FROM FLOOD US WITH MIGRANT LABOUR ?????????" Apparently Fountain has "SHOPS AND HOUSE FULL OF THEM MAKING MONEY OFF THEIR BACKS NO WONDER YOU DONT WANT THIS TO GO AHEAD YOUD LOSE A FORTUNE".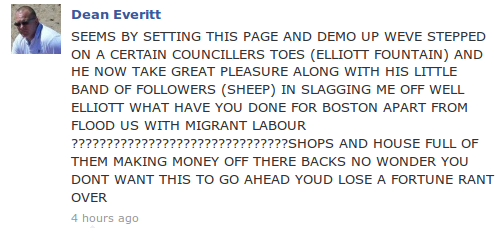 Meanwhile back on the Lets find Dean Everitt a JOB! page, Simon Trigg claimed he'd "finished now making the fool [Everitt] a bigger fool than he already was he has proved what a racist thug he is and anyone who stands with him will be dragged into his moron world". He claimed Everitt couldn't "string a sentance together without making [himself] look like a jezza kyle mongol". Apparently, "IF HE THOUGHT ANYTHING OF THIS TOWN HE WOULD STEP DOWN AS THE BIG MOUTH IDIOT HE IS". Fred Cooper agreed: "i wont defend Dean, he made a fool of him self and other. but he was only a puppet who strings were being pulled."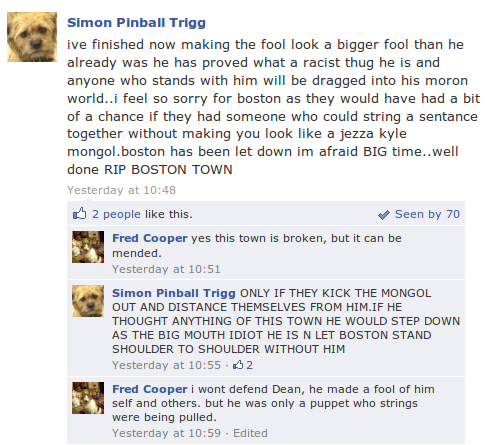 And who is pulling Everitt's strings? The usual suspects: