Hilliard gives up on uniting the right
It is with sadness that we announce that Derbyshire BNP organiser, Paul Hilliard, has decided to close his ridiculous "Nationalists Must Unite as One to Achieve Victory" page. NMUOAV has given us a load of  laughs over the past few months as fascist dinosaurs have waged bitter battles with one another about who the most corrupt, untrustworthy and compromised far right leader is and who to hate more, the Muslims or the Jews.
Now Paul has called it a day saying "I struggle to wonder how we can bring nationalists together" and that a proliferation of such pages "is playing back into our enemies hands". The page, he says, "does not work as it should and is counter productive". We would have to agree. The page has been a prime battleground for infighting between the various loony sects of the far right and has done plenty to harm the fantasy of unity amongst fascists.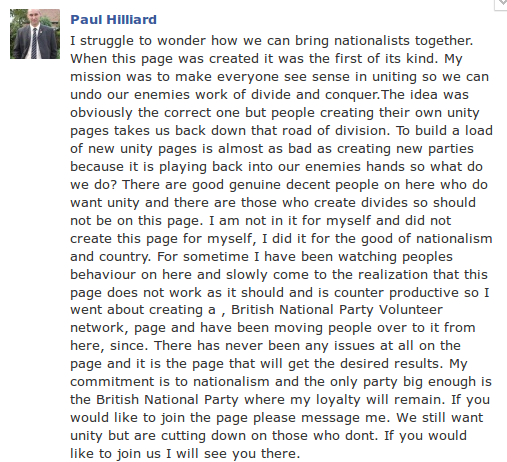 Probably part of the reason that no one likes his page is that it is a racist, anti-Semitic swamp, something that has caused  much of the fighting between old school Nazis who think the ultimate "enemy" is the Jews and those coming from the EDL perspective who want to blame everything on Muslims instead. To attain "unity", Hilliard purged the page of those who didn't hate the Jews enough to fit in with his gang. His latest offering is that "Rupert Murdoch, jew is top ten most influential people in the world brainwashing our people … We are being taken over by jews."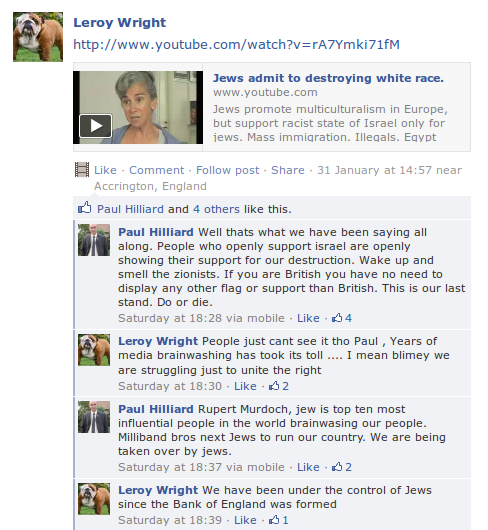 Let's bid "Nationalists Must Unite" farewell with a few highlights: