In spite of national call outs and attendances by the North West Infidels, Paul Pitt of the South East Alliance, Casuals United, the English National Resistance, Nottingham EDL and the EVF, barely a dozen people bothered turning up for Tony Curtis' demo at Nottingham Uni yesterday. After plotting up at a nearby Toby carvery the pitiful crowd weren't even allowed onto the campus and had to stand around in the road outside listening to Tone the Moan. Casuals United reckon they go where they want but as usual they meekly went exactly where the police wanted them. They didn't get close to the event they were supposed to be protesting or speak to the general public so the whole thing was a waste of time.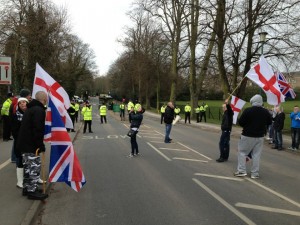 This is further proof that without the EDL these hangers on are nothing. It looks impressive to have alliances of about 10 different groups until you realise that each group has about 3 people in it and most of them are keyboard warriors. These big mouths spend more time designing elaborate logos and posting on Facebook than actually doing anything in the real world.
This is the second humiliation this week for Curtis who foolishly thought he could hold his own against "the left" on Indymedia. When his badly thought through arguments were torn to shreds he quickly surrendered, pretending he'd been banned, even though as one commenter pointed out, you can't be banned from Indymedia. As one poster noted "typical fascist, making loads of noise but unable to back it up when effectively challenged".
Part of Curtis' whingeing was about being called a racist. Well here's a tip – if you don't want people to think you're a racist it's probably best not to give Nazis a hug. Curtis was recently pictured with his arm around Shane Calvert, leader of the NWI who are notorious for calling for the killing of "Pakis", the gassing of Jews and murdering of immigrants. Calvert was recently in attendance at the neo-Nazi White Pride Worldwide event and regularly does demos alongside the National Front. Other NWI activists include Liam Pinkham, who likes to pose in jackboots giving a stiff-armed salute.