Tony Curtis has finally thrown his lot in with yet another unmemorable far right group – the English National Resistance. The ENR seem to have stolen the name of a previous group of the same name who tried unsuccessfully to bring the German autonomous nationalist idea to the UK. ENR Mark I seem to have managed a bit of poorly-spelled flyposting and a few rants about miscegenation before disappearing into nothing. It's hardly a good omen.
ENR Mark II seems to be a rather uneasy alliance featuring members of the English Democrats, the South East Alliance, Britain First and now the English Volunteer Force as well. I say uneasy because some of these groups have diametrically opposed views on certain issues. For example, the English Democrats support Irish nationalism whereas the EVF are strongly loyalist. With the far right you can always be sure that cracks will be appearing before long as big egos wrestle for power and influence.
This looks like a collection of failing groups, desperate for a bit more clout than they could ever hope to manage on their own. Whilst the Eng Dems made a splash a few years back they are into decline in most areas now as people start to realise that the councillors they elected are the same old BNP thugs in suits. Britain First is another tiny split from the BNP, notable only for the fact that it is master-minded by the much-hated Jim Dowson, widely believed to have been behind some of the BNP's worst corruption. The South East Alliance are just an EDL rump and the EVF have failed to impress so far. The organisers clearly hope that this collection of failures will be greater than the sum of its parts but we're not holding our breath.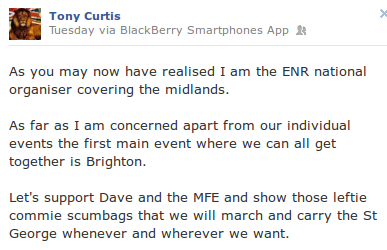 According to Curtis, he is the "ENR national organiser covering the midlands" [sic] and his first job is going to be going to Brighton for the fascist March for England to show the "leftie commie scumbags" (his term for the local population) that "we will march and carry the St George whenever and wherever we want". Be careful Tony – the last person to use that phrase was Casuals United's Jeff Marsh who has now surrendered and given up on his nation by moving to Spain.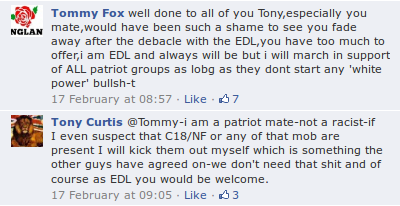 Once again Tony is bullshitting wildly by claiming not to support racists and Nazis. When he made the announcement, fellow "patriots" urged him not to get involved in "'white power' bullsh-t". Curtis replied "i am a patriot mate-not a racist-if I even suspect that C18/NF or any of that mob are present I will kick them out myself". Even discounting the very dubious credentials of some of those involved in the alliance (for example the EVF's monkey jokes and desire to smash "browns"), Curtis has been supporting the openly Nazi North West Infidels in recent times. That's the NWI who recently posted a song about killing "Pakis" and gassing Jews on Twitter and are promoting a "White Pride Worldwide" event in Swansea. It's no surprise. Tony's new best mates in the EVF leadership are also good mates with NWI leader, John "Snowy" Shaw. Tony will tell people like his Sikh mate Jag Singh what they want to hear about him not being a racist but will cuddle up to  anyone he thinks can further his far right career. He is a liar and a hypocrite who will fit in well with his new racist buddies in the ENR.