With less than a week to go before the EDL's demo in Nottingham it's becoming clear just how half-cocked the whole thing is. The demo is being organised by Jack Stevens, last spotted stumbling out of the off-license after the Notts Casual Infidels demo last month providing plenty of entertainment for the antifascists. The Twat in the Hat, as we affectionately know him, is rarely sober as you can tell from his long Facebook rants, casual racism and loyalty to the EDL. If the EDL is relying on this muppet to run their national demos they're in trouble. Which of course they are.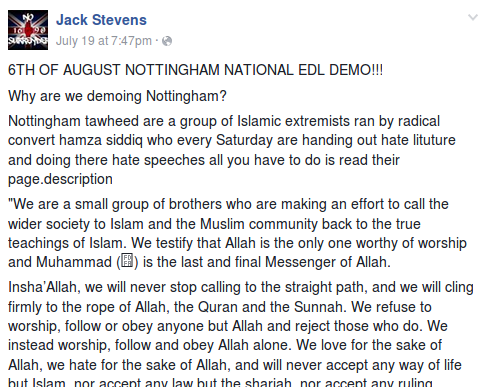 Helping him along is Mansfield's Daniel Hall, best known for inciting the murder of Labour MPs on his Notts Casual Infidels page. Clearly the EDL have forgiven him for stealing their money, splitting away to form his own gang and the pending legal action. Or they're just desperate. You decide. We wonder whether he'll bring his bogus "charity" collecting bucket again this time?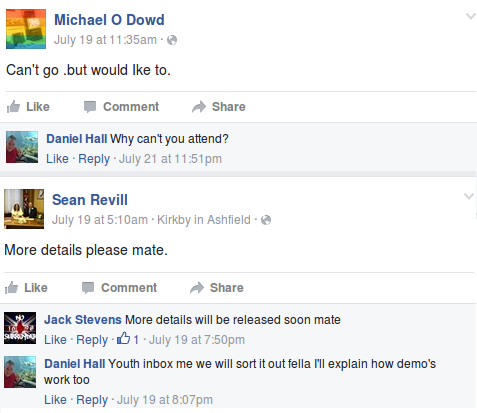 According to Jack, the EDL are coming to Nottingham because of an obscure Islamist sect that no one had heard of until the EDL started giving them publicity. But that's the way with the EDL and their fellow travellers – they know they need to prop up the most extreme, attention-seeking elements within the Islamist community to boost their own support.
The EDL do nothing to prevent Islamic extremism – on the contrary, they actually help out these Islamist groups by trying to reduce the world into a street fight between white nationalists and Muslims – Isis would love it!   (It's also worth noting that the most effective fighters against Isis in Syria and Iraq have been the Kurdish YPG, who are predominantly muslim and avowedly anti-fascist…..the idiotic anti-Isis pub rhetoric of the EDL becomes even more laughable….)
Oppose the fascists in Nottingham on Saturday 6th. UAF are meeting at the Brian Clough statue at 12pm and keep an eye on the Midlands Antifascists page for details of their own mobilisation. These pictures from the last Nottingham demo will give you an idea of who to look out for.