Blink and you'd miss them but 500 EDL members turned up in Rochdale yesterday to try to make further capital from the Rochdale grooming case. As I've said in a previous post, the far right have ignored a lot of the factual evidence and just followed their prejudices in "making sense" of this case, helped along by mainstream politicians like Jack Straw with his statement that some men in the Pakistani community "view white girls as easy meat".
Given that the EDL say that they are so opposed to this mistreatment of girls and what they view as Islam's mistreatment of women in general, you might think that they would be squeaky clean themselves. This is not the case. Another EDL member was outed for a paedophilia conviction recently, adding to the already extensive list. Experts suggest that male paedophiles flourish in environments where there is strong male bonding and an atmosphere of misogyny. The EDL is such a place.
Less than 10% of EDL members are female. The vast majority are men and the culture is correspondingly laddish and sexist. Indeed, EDL leader Tommy Robinson is a keen fan of the twitter feed of True Lad, who regularly tweets boorish sexist rubbish about "slags", "fat girls", making wagers for blow jobs from his girlfriend and even sexual assaults: "sneakily brushing against girls arses as they walk past in clubs. #covertarseratingLAD." But then, girls are just easy meat to these people.
These offensive, sexist values are present throughout the male EDL (and are often considered normal and acceptable by the women as well). We have already covered the "lock up your daughters" attitudes of local members, the rape jokes and the perception that women should be domestic servants. There is plenty more abuse of women where that came from.
The most common perception of women is that they are sexual and domestic slaves, as summed up in this post by Adam Repton (Nottingham EDL member): "A real woman never lets her man leave the house hungry or horny".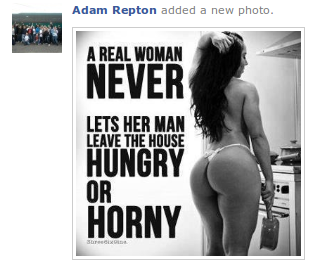 This is an attitude shared by Craig "Leicester" Elliott, Leicester organiser, who had this Mothers' Day wish for Leicester mums: "Happy mothers day to all mums!  A little explanation to Leicester mums though! It's such a special day for you on this day every year so this year we thought a special dinner was in order. In fact this dinner has got to be so special that were all off out to watch the footy whilst you cook it so we don't get under your feet!"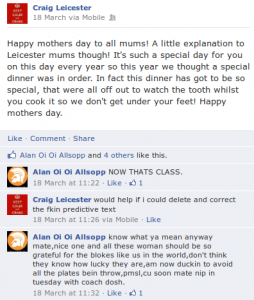 Chris Conroy (Newark EDL organiser) is a man who clearly thinks a woman's place is in the kitchen and nowhere else. "Why do women try to talk football? Do you see me in the kitchen discussing dishwashing strategies? No, you don't." When questioned by a woman who objected to his stance, he wrote "you fail as a proper female".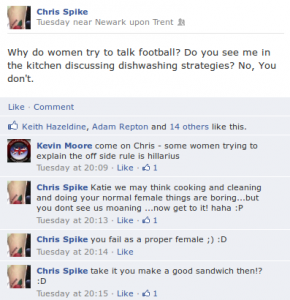 These lads think that lounging around playing football is a "proper" man's role whilst "proper" females should be happy to cook and clean.
Oh and be perved at by them of course, as demonstrated by Martin Wealthall of Nottingham EDL: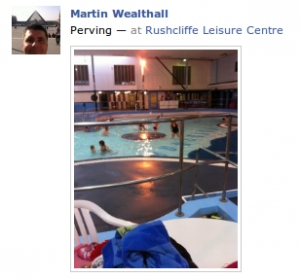 Any women who disagree with this servile role are just trying to spoil men's fun. Steve "Bod" of Leicester EDL reckons "men were brought into this world to enjoy there life. women were brought into the world to make sure they dont". Or as Chris Conroy puts it "Fucking females… lol! dont have a clue… text you with abuse before they even know the crack…get real cunt." Lee Tams (Leicester EDL) adds "FK UM USE AND ABUSE". After all, they're just easy meat.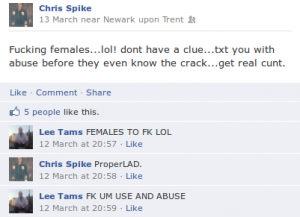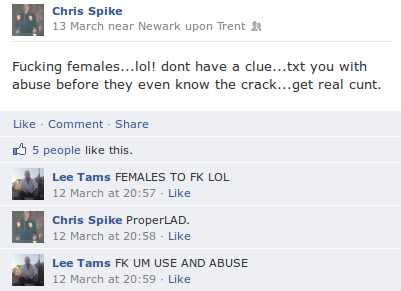 Not content to joke about rape and sexual abuse of women, the lads also like to fantasise about extreme physical violence and murder of their female partners. Ian Humphries of Leicester EDL likes to "joke" about breaking his wife's jaw (the "sound barrier") and burying her under the house.
All of this should demonstrate how hypocritical these EDL members are every time they complain about Muslims abusing women or the inferior status that Islam confers on women.
Anti-fascists are against the abuse of all women and children, not just when it is politically convenient for us. We want a world where women and men are equals, not one where women slave in the kitchen whilst their menfolk relax in front of the footy. Whether it is paedophile grooming gangs or the misogynists of the EDL, violence, sexual abuse and threats of abuse against people based on their gender need to be eradicated.