Casuals United confirm that they are fascists
Us anti-fascists have heard no end of whingeing from the 10 men and a dog who are Casuals United over the years, usually starting with "But we're not fascists!". The latest example was when failed far right kingpin, Tony Curtis AKA Tone the Moan, leapt to the defence of the Casuals godfather, Jeff Marsh, claiming that he's against people with extreme right wing views. Well, no one needs to pretend that these muppets aren't fascists anymore because Leicester Casuals United have kindly confirmed the fact for us.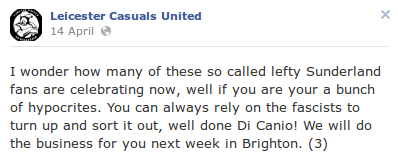 This just confirms what anti-fascists have been saying for ages about the March for England in Brighton this weekend – that it is a fascist mobilisation against 'lefties' with a not very convincing patriotic disguise. In case you need more evidence, here's something the Anti-Fascist Network found on Facebook: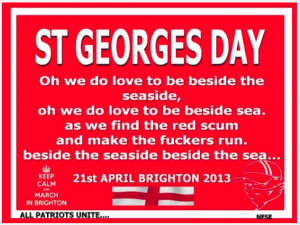 Travel down with your local anti-fascist group and make sure that these fascists look very silly indeed.