Despite not managing to attract as many people as the even more lunatic National Front did in September, the BNP are hailing their halal demo in Skegness as a success. Their photo depicts just under 30 fascists outside a warehouse in the middle of nowhere.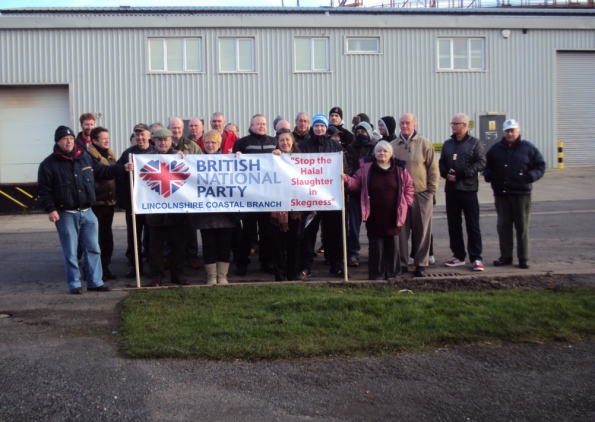 Unfortunately, the local paper, the Skegness Standard, is helping them along by giving their efforts a feature article. Perhaps this is because a few days ago they decided to publish a letter from an equally unreliable source, the owner of the slaughterhouse, who claimed the BNP's publicity was helping him find trade. This is probably some hack's idea of "balance" although of course no anti-fascists or genuine animal rights activists have been quoted.
According to the branch organiser Robert Ashton, the meet-up was intended "to send a coherent message to the community regarding the party's campaign against ritually slaughtered animals", something he seems unable to do:
The photograph will document our visit and show we were here at the abattoir in Skegness, it shows we are together of this issue
…whatever that means. Maybe that they don't agree on much else?
However pathetic their demo, it is a major success for the BNP that they were able to semi-publicly organise a demonstration and leafleting session unopposed. In the absence of a non-racist animal rights campaign, the BNP are being able to lead the campaign against the slaughterhouse. In the absence of an organised local anti-fascist movement, they are able to take their poisonous message to the streets freely.
The branch say the party will be back for another demo in Feb or March to "gain strength for its party locally". Let's hope that next time they do not have such an easy ride.