Skegness slaughterhouse: Not a racist campaign?
We've already said quite a bit about the BNP and NF involvement in the anti-halal slaughterhouse campaign. But what about the supposedly mainstream page set up by Tess Turner? The admin of Say No to Halal slaughter in Skegness has said she won't be demonstrating because she doesn't "want to be part of something as extreme as the National Front." However, a quick look at her Facebook page suggests that she does hold islamophobic and racist views.
A recent post complains about how "these barbaric people are all set to take over the world".  "Our government are letting this happen to our Country,I fear for my children and my grandchildren" she continues. This looks like another reheated counter-jihad conspiracy theory about Muslim takeover of the world, in the mould of the Protocols of the Elders of Zion. Muslims are a small and widely discriminated against minority in this country and have a tiny influence in rural Lincolnshire. The idea that they are taking over is pure nonsense.
I notice that all of the page's anger is directed at halal and Muslims rather than kosher and Jews, perhaps because Muslims seem like an easier target and fewer people are willing to defend them.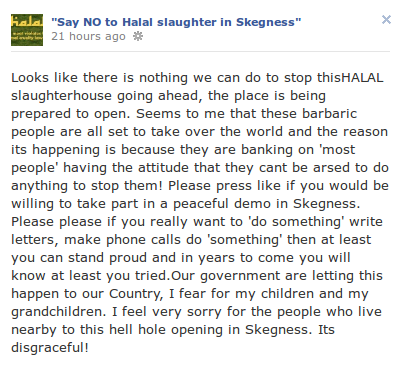 Further evidence that the page is motivated by xenophobia rather than a principled concern for animal welfare can be found in the fact that, like the BNP and NF, the campaign only focuses on halal slaughter and does not generalise at all to factory farming and cruel practices more widely. In the early days, a number of animal rights activists and vegans joined the group but they were kicked out for "having a go" at the meat eaters who dominate the group.
Turner justified this with some rather tortured logic. "i could quite easily become vegetarian it wouldn't bother me", which begs the question of why she doesn't if she cares about animal cruelty so much? What is her agenda? "but" she continues ,"if a million people turned veggie tomorrow, no less animals would be killed". That's just rubbish. In 2011 the average meat eater ate 26.1 animals. If 1m of those went veggie 26.1m fewer animals would have to be killed each year. That sounds like quite a big deal for the level of animal suffering in farming if you ask me.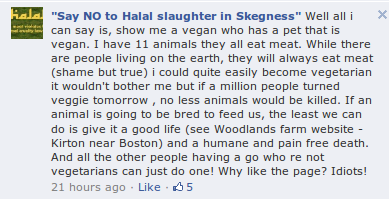 "If an animal is going to be bred to feed us, the least we can do is give it a good life … and a humane and pain free death" Turner concludes. That's all well and good in principle but begs the question of why the campaign doesn't tackle our "indigenous" factory farming practices and production line slaughterhousing? Is it because, in the logic of the National Front, these practices aren't "alien"? Because they involve British cruelty for British animals? Until these questions can be answered, the "mainstream" Skegness campaign looks rather suspect.