Not to be outdone by fascist rivals, the BNP, the National Front have said that they will be demonstrating against the halal slaughterhouse in Skegness. The explicitly racist party announced that it will be holding a demonstration in Skegness town centre, "possibly just off Lumley Road", on Sat 15th September.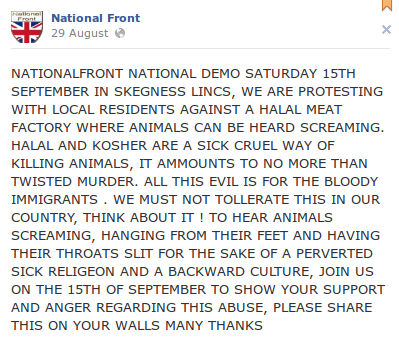 Apparently "ALL THIS EVIL" that the slaughterhouse generates is "FOR THE BLOODY IMMIGRANTS", "FOR THE SAKE OF A PERVERTED SICK RELIGEON AND A BACKWARD CULTURE". Whichever caps lock-deficient Nazi typed this left us in no doubt that xenophobia rather than animal welfare is the dominant issue.
The move has split the existing campaign against the Heath Road slaughterhouse. Tess Turner, who is admin of a number of Facebook pages and groups against the slaughterhouse has said she will not support any "political" march on the issue. She told the East Coast Target that "The reason I started the campaign page was nothing to do with politics and race, it's just an animal welfare point of view." She's obviously realised that standing alongside a bunch of unreconstructed Hitler worshippers will be a bad PR move.
The National Front represent the white supremacist politics that the BNP have spent the past few decades pretending they don't support any more in an attempt to be more "credible". The NF's constitution supports the halt of non-white immigration into the UK, the forced repatriation of non-whites already here, bringing back the death penalty and birching, the outlawing of abortion and discrimination against homosexuals. A typical post on their Facebook page supports "WHITE PRIDE NATION WIDE" with a very Nazi-like NF logo and quotes white supremacist David Lane's 14 word phrase. Asylum seekers are referred to as "THIRD WORLD FILTH" and they state that anyone who opposes them is "RED FILTH" and "UNCLEAN SCUM".
These wannabe "master race" members are probably still smarting from their humiliation at the hands of anti-fascists in Derbyshire a couple of years ago. An East Midlands NF "Day of Action" was brought to an abrupt end by the "reds" who took the NF's flag and leaflets while the handful of Aryan warriors meekly surrendered. This time it's a national demo so they may get as many as 20 to turn up and hide behind police lines. We hope the people of Lincolnshire give these Nazi chancers the boot.