Nottingham Indymedia reports that some local fascists were seen attending the official St.George's day parade today, although without their public branding.  The local EDL also organised Saturday's parade in the Clifton area of the city in memory of soldier Kieron Hill and Nottingham organiser Jay Clark even got quoted in the local paper. Not everyone thought the event was as successful as the Post made out though. One local said "it was not the turn out I expected" and "it seems as tho everyone just wanted to head to the pub". When the EDL are in charge that's what we come to expect. It seems they headed straight to Weatherspoons after the Nottingham march as well.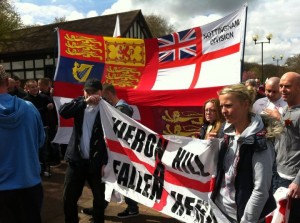 The revelations will be a blow to the local Labour party's attempts to portray themselves as anti-racists. The St. George's Day march has grown from a tiny group of football fans in a pub in Radford to the large march through the town centre that it is today largely thanks to the Labour city council's promotion. It will be extremely embarrassing for them that the event is being used as a platform for groups like the EDL.
It's no big surprise that fascists will be at such public events, especially on St.George's day, as it's one of their best chances to safely show their collective ugly mugs in public.  The far-right, opportunists as they are, will always seek to use any space they can to gather and organise, and piggybacking on mainstream events is a relatively easy way to achieve this if they can get away with it.